by Erika Tapalla
QUEZON CITY, Philippines -- With his deep blue eyes, dirty blonde 'do, and toned physique, Kirk Long can easily make girls swoon. But he's not just a pretty boy. He's Ateneo de Manila University's basketball recruit on full scholarship, anxious to spread his wings as a Blue Eagle in Season 70 of the University Athletics Association of the Philippines (UAAP).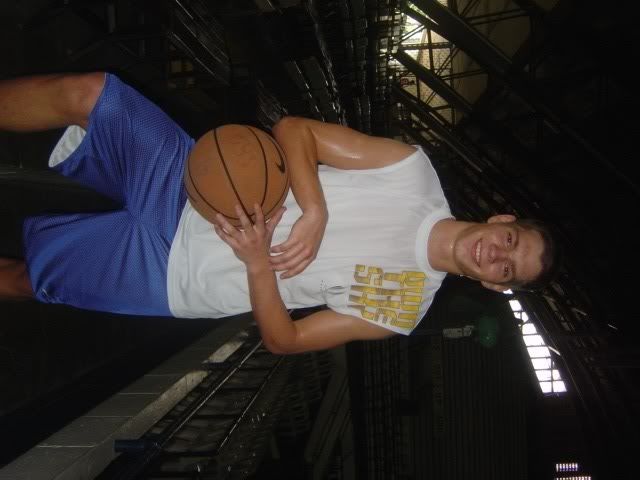 Once the word became official, Kirk was hyped up, leaving university students at the edge of their seats waiting to see this guy in action.
Now that the UAAP basketball season has commenced, Kirk was barely seen where he was expected to be -- on court.
"Coach just wants to wait and doesn't want to put me in a position where I'm gonna fail and be discouraged. I still have a long way to go, have a lot to learn, so I'll wait for my time to come," he says.
Kirk has always loved basketball. As a child he frequently played with toy basketballs and mini-hoops given him by his father. Growing up in the Philippines where basketball is arguably the most popular sport further heightened his interest.
Although it is apparent that basketball is very important to Kirk, there's more to him than his long strides, fast hands and high jumps.



"I'm learning to be a well-rounded person, focus on my studies and have some quiet spiritual time because putting all your trust and hope in basketball is not enough," Kirk says.
His parents transferred from Kansas, USA to the Philippines when he was two-and-a-half years old. They came to the country as missionaries to spread the Gospel and accept Jesus Christ as their personal savior. They subsequently established a home for street kids at Valley Golf in Antipolo.
"I try to have a good testimony with God, ask for forgiveness for all my sins and keep good relationships with people around me both on- and off-court," Kirk says.
He values friendship highly and has formed strong relationships during his stay.
"I guess I'm an emotional guy," he says somewhat bashfully. "When things don't go right, when my friends leave, it tends to carry over to other things and I have to learn how to control my emotions so I could focus."
With a boyish smile, Kirk states he is still in the process of learning how to balance his time.
"It's always fun to go out with friends and hang out, but I have to make sure I use my time wisely," Kirk says.
Rising popularity and amazing skills aside, he's still an ordinary guy anyone can easily talk to whether it be about his nonexistent love life or basketball.